September 11, 2015
767 Views
(GLC Africa and French Caribbean World Sector Forum, 1 August 2015)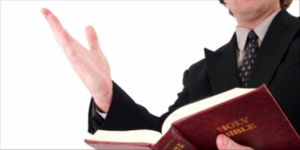 PART 3 (PART 1 here  PART 2 here)
Point number 2: Trust in his promises.
Joshua 1
We live in a world of broken promises and cynical attitudes. Nowadays when people say "I promise" – people think "aha, sure". I remember talking to some of the brother that were there, you know they have been faithful servants in the Lord. They don't get to go to GLCs like we do. In some cases with the remnant groups you have one church of 116 and another of 315 – Kinshasa. And the rest are groups of 27, 10 here, 5 here. Small groups fighting to stay strong. Fighting to trust in God's promises. It would be easy for them to go back to the ICOC. It would be easy for them to just relax and say we don't need to fight for right doctrine – we don't need to stand up for the truth. We can be autonomous, discipling is optional – we don't have to evangelize the world in this generation.
In Freetown, Sierra Leone – there is a brother there, he and his wife get $20 a month – that's what they live on. They came to the conference and they were so happy and joyful. And we started to notice and asked – "Are you okay?" – "We are fine" and we found out they hadn't eaten anything. So grateful for different brothers like Joel and others who said let's collect money, let's do it – let's take care of them. But they never complained.
In Johua chapter one – we also have to trust in God's promises.
Joshua 1: 1-6
After the death of Moses the servant of the LORD, the LORD said to Joshua son of Nun, Moses' aide: "Moses my servant is dead. Now then, you and all these people, get ready to cross the Jordan River into the land I am about to give to them–to the Israelites. I will give you every place where you set your foot, as I promised Moses. Your territory will extend from the desert to Lebanon, and from the great river, the Euphrates–all the Hittite country–to the Great Sea on the west. No one will be able to stand up against you all the days of your life. As I was with Moses, so I will be with you; I will never leave you nor forsake you. "Be strong and courageous, because you will lead these people to inherit the land I swore to their forefathers to give them.
Trusting in God's presence. Do you see the Lord's presence – do you see the the Lord here right now?
Point number 2 – Trust in his promises.
I remember telling some of the brothers there "I can't wait to be there" and some people said "Amen bro we really hope you come". So when we had this Abidjan conference we are say we are going to do it – we are going to invest in Africa and we are going to show you – we mean what we say.
When we did this they were blown away! We said to people "we are going to pay for your plane ticket, we are going to bring you to us" they were blown away. There was this one brother, Tamru Belihu – he is the "Ethiopian" of Acts 8. He lives in Addis Ababa. And this brother is awesome! He is actually a teacher and we were sharing at the leadership dinner – he said "Andrew – I have never left Ethiopia. I have never seen the ocean. I am so honored to be here with you."
I look at that and I realize and I look at this passage and I realize that when God makes promises he follows through on them. When we make promises we need to hold to our word too. In this passage we something really interesting. Moses – the Moses we just talked about, who prayed that God's presence would go with him – he is dead. Now Joshua has to raise up.
Probably Joshua enjoyed the presence of the Lord and Moses. But now Moses is dead.
How would you feel when others leave? How you feel if people were to fall away? Would that steal your faith? Would that steal your joy? Would that steal your courage?! There will be some people who go on the mission team that will fall away. We don't want that to happen. So we got to count to cost and stay close to God and his presence. But if we are truly trusting in God's promises, no matter what everyone else does – "I am close to God, we are going to do this together, lets go!" But whats power is God's promise here. In verse 3 – "I will give you every place where you set your foot". Do you really believe that?
See – when you look at Africa, Africa has got really four tiers of living: Tier 1 – South Africa. South Africa is pretty nice. It's got its parts like everywhere else but you would feel you are here in some ways. In some parts of Africa, for example Sandton, I mean these guys are rich! I felt like I was in Beverly Hills over here! But that's the disparity. The rich get richer and the poor get poorer. That's tier 1.
Tier 2 is more like Abidjan. Pretty good, nice, but you can see the difference – definitely. Tier 3 – Kinshasa, Congo. You see now another mark of difference. We are getting ready to go there in January, to help rebuild that church there and get it solid, unified and get the inaugural service going – amen? Officially plant that church. But then after Kinshasa we have to get to places like what? Rwanda… Tier 4.
Everyone thinks of Africa and they think Rwanda. No! Africa is not just Rwanda – there is like 4 tiers going on there. So we got to get to tier 1 – Amen we are going to crank it… Tier 2 – we are already cranking it, Tier 3 we are cranking it, Tier 4 – Oh baby! See that is the real stuff right there. That's the stuff you see on TV. Are you with me? That's the stuff you see in movies, but we got to get there too. And my Bible tells me – it says " I will give you every place where you set your foot" (stamps foot). Do you believe that? Now when you pray say "God – help us to take this land for you". It's God's land! Everybody else is just renting space!
That's the heart we need to have! You know I think about the brothers and sisters in Haiti. I look at what God has done through Alexis. In two years guys, from one man, 155 disciples in the Lord! Is that incredible?! 16 Preachers – I mean just unbelievable! Five different churches!
Do you believe that God will give you wherever you place your foot? Do you believe that for your city right now? Because let's be honest – if we don't have the faith to take our cities – we are not in Tier 1, we are in Tier 0 (this is real nice!)? But you know what the problem is? When it gets real nice – to get real comfortable.
We gotta believe NOW! We can't be trying to go on mission teams if we are not fruitful where we are! "I want to go on a mission team!" Are you close to God? "No". Are you fruitful "No". Why do you want to go on a mission team? So you can get a globe. So you can say "I did something"? This is about sacrifice. This is not a game! I am putting my family in danger – and I know that! I have been praying about that for that past 5 years!
When I think about trusting in God's promises – I really appreciate the Groenewalds. I love them very much. I remember back in 2008 when I first went to London for the first Gathering. I have family in England, Surrey. I was like – I am going to see if I can get my family to meet the London church, and so they were gracious enough to host me. It was just me at the time. You know they are South African! At the time they were like – "I aint going back to South Africa". "I am trying to enjoy the good life over here. London is awesome!". Let's be honest – we all need some comfortability sometimes. But then we got to realize, "Are my eyes really on the cross or on the couch?".
So the Groenewalds, with true courage and great faith said "You know what? We need to do this." We are South African. I appreciate Jeanette – she was sharing with the group – this is a calling from God – this is why we are here! I am so proud of them. And now they are ready to help initiate the Joburg remnant group in November! Let me tell you – this doesn't come without sacrifice. Because they are trusting in the promises of God. They have family their yes but they work so hard to make their way in London?
I am so proud of you both. Jacques said I going to take my family and my baby girl and I am ready to go. Bro – you honor me.
Because they trust in God's promises. They are willing to sacrifice.
That has truly been going on throughout Africa, throughout Haiti – there are so many amazing things to share with you. Now just to share with you, we have one established church and 9 remnant groups. Abidjan started in 2008 and planted in July 2015 with 116 disciples led by Amadou and Angèle. The remnant group of Khoury-Zhouzwa in Ivory Coast – started in 2013, 77 disciples. Kinshasa, DRC started in 2007. Wow how about waiting on God's promises right there?
These guys are waiting for their churches to be planted… since 2007. Now they are 341 disciples! Busia, Kenya remnant group – 27 disciples. Cape Town, South Africa – 11 disciples, Nick Winn. Johannesburg, South Africa – this one is amazing – you guys know Micky Ngungu of the Kinshasa church – his wife Lilly got restored at the Abidjan conference. They had been living in two different countries. He is trying to help the church grow and she is like "Our family – its too much on our family so we go to bring them to Joburg so they can get schooling and can get ready and can get taken care of. " Imagine seeing your wife a couple times a year! Literally they saw each other at the Abiudjan conference, that was probably the first or second time all this year. For the sake of the gospel. But now be praying because now we got a disciple in Johannesburg and soon we are going to have five disciples there when the remnant group team arrives in November.
We have Addis Ababa, Ethiopia – started in May 2009 by Tamru and Fafa Belihu – that's how long they have been waiting. Freetown, Sierra Leone, started in March 2014 Jerry and Marian Coral. Douala, Cameroon – that's where Blaise was born – started March 2015 led by Benjamin Monique. Burkino Faso – this one is interesting – Olivier was converted in DC when were there – I actually met him and another sister met him – and he became a disciple. We got to get Burkino Faso going. We got two people there. But it is really cool. Of the 12 baptisms that happened on Sunday – the first two were the couple from Burkino Faso. They went like – "We are going back and we are going to invite our friends and we are going to start a remnant group."
That is what God is doing when we trust in his promises.