September 10, 2015
888 Views
Amadou and Angèle Santoura are the leaders of the mighty Abidjan church in Ivory Coast.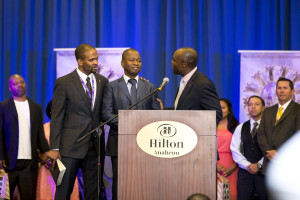 The conclusion to this year's Global Leadership Conference in Los Angeles was angelic! The last day did not only see two touching restorations and 17 baptisms but the 3rd commencement of the International College of Christian Ministries (ICCM)!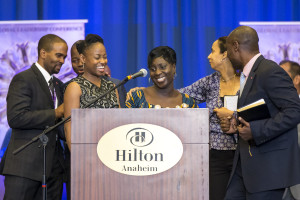 At the commencement both Amadou and Angèle were awarded a Bacheclor of Arts in Ministry!
Following shortly after was the remarkable Kingdom appointments of Amadou as Evangelist and Angèle as Women's Ministry Leader! Our newly appointed brother and sister now have the charge to evangelize not only Abidjan – the city with our recently planted church – but all of Ivory Coast!
Congratulations to them both and to God be all the glory!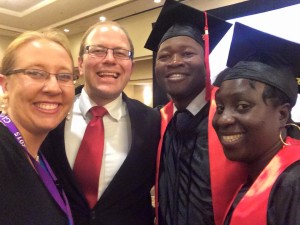 More about the Santouras
Amadou Sountoura was born on the 7th of April 1968 (47 years), Abidjan. Amadou is the fourth son to Muslim parents out of a family of seven children.
Amadou recalls clearly how during his upbringing children in the family would get beaten for attempting to practice any other religion in their household.
After putting up with the abuse for years Amadou decided he wanted to become Christian and started seeking God! It was at that time that God connected him with a friend of a friend whom invited him to the church. Amadou upon visiting the church immediately started studying the Bible. One week later he was saved through the waters of baptism! Amadou recalls the day clearly – 19 March 1993 as well as the exact date that he went full time as a minister for God in the former fellowship – 25 November 1995 just two short years later.
In February 1996 Amadou was chosen for the first time to go on a mission team to Burkina Faso, one of the French speaking countries in Africa. On that mission team was also another amazing disciple – Angèle who became his sweet heart and they were married on July 14th 1996. Together they went on and further planted the church in Bamako, the capital of another French speaking nation – Mali, overseeing several disciples. They also later held the role of lead couple of a region in the Abidjan, Ivory Coast church.
After the onslaught of bitterness in the hearts of many in the ICOC sadly after initially being chosen to lead another region of the Abidjan church in 2008 Amadou and Angèle were forced out of leadership.
After surviving for years they made the decision to seek God with all their heart and joined God's new movement in 2011 and since have been instrumental in leading and growing the remnant group in Abidjan until it was formally planted just 2 short months ago!
As natives of this key nation in all of French speaking Africa, the Santouras have a vision to see all of these nations and the entire continent being evangelized in this generation!